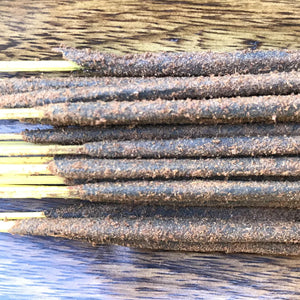 Agarwood Incense Sticks
20 sticks-1 hr burn time
Agarwood, also known as Oud, is prized for its spiritual properties and is highly sought after for meditation, spiritual journey, grounding, enlightenment, and clarity. It also can be used to relieve exhaustion and take away anxiety.

Each standard 9" incense stick burns for about an hour. Each package of incense includes 20 sticks.
Green packaging - bags are plant cellulose from cottonwood trees. Packaging is compostable and made from renewable resources.