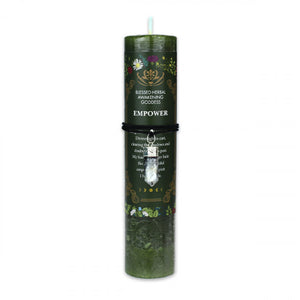 Awakening Goddess Empower Candle
There's always something better that awaits you. You just need to clear the obstacles in your path. Awaken your strength and the confidence you need to overcome life's challenges and conquer all that stands between you and who you want to be.
The Awakening Goddess Empower candle, a specially blended candle.
Blessing: The goddess within awakens, Divine light is cast, clearing the shadows and doubts of times past. My fears no longer hide the big beautiful empowered spirit I have inside.
Size: 1.5""x 7"" Pillar
Burn Time: 40 Hours
Color: Avacado green
Scent: Uplifting juniper blend
ATTENTION:
Remove all packaging before lighting.
Never leave a burning candle unattended.
Place in a fire safe container.
Keep away from drafts, flammable objects, children, and pets.