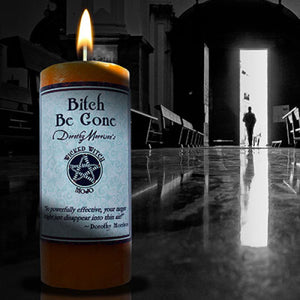 Wicked Witch Mojo Candle-Bitch Be Gone
Someone annoying you and they aren't taking the hint to leave?
Burn this candle to send them on their way.
 Bitch Be Gone Wicked Witch Mojo is a bright Orange with a musky sweet scent. This candle is 2"x4" 40 hours burn time. "So Powerfully effective, your target might just disappear into thin air!"- Dorothy Morrison Words of Mojo -
You are a bonafide ass, and I've had enough of the trouble you've caused, so I'm calling your bluff. So pack up your crap and get out of my sight. I'll throw a party, because…bitch, you'll be gone.