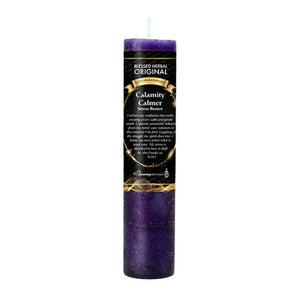 Blessed Herbal-Calamity Calmer Candle
Life can build up on you, layer upon layer of stress until you no longer can discern what the real stressors are and what just a bother is. This candle is designed to help you take a calm breath in a safe space. This allows you to release the calamity you are hanging onto and open up to easy, attainable resolutions. Who doesn't get caught up in chaos. When that happens, light this candle and watch peace fill the situation.
Blessing: I release my confusion into earth, creating peace, calm and gentle mirth. Calamity unwound, released from my mind, easy solutions in this moment I do find. Laughing at the struggle my spirit does rise; I know my next action what is most wise. My stress is dissolved is how it shall be, this I make so, 3x3x3
Size: 1.5"x 7" Pillar
Burn Time: 40 Hours
Color: Deep purple Scent: Fresh Lavender flowers, soothing & comforting
ATTENTION: Remove all packaging before lighting. Never leave a burning candle unattended. Place in a fire safe container. Keep away from drafts, flammable objects, children, and pets. We've done all the work for you – each blend of herbs and oils is specially chosen to complement the intention of the candle.