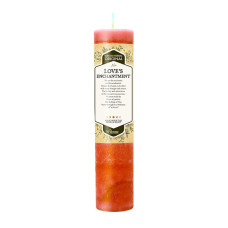 Blessed Herbal-Loves Enchantment
Discover the power of true love with Blessed Herbal-Loves Enchantment! This amazing concoction of aromatic herbs unlocks the hidden sensuality between you, creating a passionate spark that will ignite your relationship and make your hearts beat a bit faster. So go ahead, treat yourself to an electric attraction and fill your relationship with admiration and desire. You'll be truly blessed!
Blessing: We are the enchanter and the enchanted. Desires feed upon each other with every thought and action. The beauty and admiration of this moment mesmerizes. We move with the dance of passion. Our feelings of bliss burst through in a brilliance of 'el amor'.
Size: 1.5"x 7" Pillar
Burn Time: 40 Hours
Color: Light Pink.
Scent: Lemon Grass, Jasmine, and Orange Blossom
ATTENTION:
Remove all packaging before lighting. 
Never leave a burning candle unattended.
Place in a fire safe container.        
Keep away from drafts, flammable objects, children, and pets.