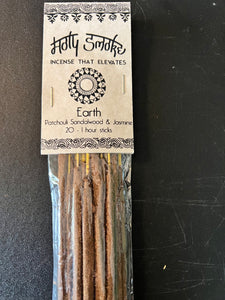 Earth Incense Sticks
This package contains 20- 1 hr burn sticks. Handrolled with honey and these botanicals: Patchouli, Sandalwood, & Jasmine
Earth is delightful blend of Jasmine, Patchouli, and Sandalwood which is sure to keep you grounded.
Each standard 9" incense stick burns for about an hour. Each package of incense includes 20 sticks.
Green packaging - bags are plant cellulose from cottonwood trees. Packaging is compostable and made from renewable resources.