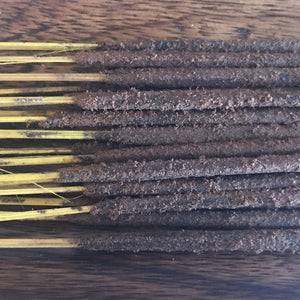 Guggul Gum Incense Sticks
This package contains 20-1 hr sticks. Handrolled and made from honey and natural botanicals.
Guggul gum is prized in Ayurvedic medicine and has been used for cleansing, purification, and to rejuvenate and increase ones energy. It has a sweet, earthy, slightly balsamic aroma with hints of vanilla.

Each standard 9" incense stick burns for about an hour. Each package of incense includes 20 sticks.
Green packaging - bags are plant cellulose from cottonwood trees. Packaging is compostable and made from renewable resources.