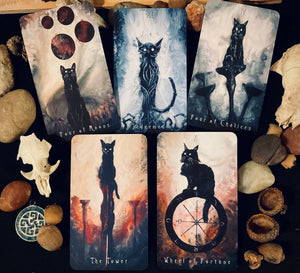 Haunted Cat Tarot
Welcome to the Haunted Cat Tarot Deck. This 78-card deck features original art by artist J Edward Neill and card concepts & keywords by Heather Neill. This is our fourth deck overall, and our first official tarot deck.
This deck ships in a sturdy luxury box, which includes a shadowy cat logo.
The card size is 4.75" x 2.75". The card stock is flexible and durable casino quality.
This deck ships without a physical guidebook. The guidebook is available in three formats:
Downloadable Digital PDF: https://wp.me/p3SX0N-83e
Physical: Available for $6.99 on Amazon - https://amzn.to/3Gd7N7P
Kindle: Available for $2.99 on Amazon - https://amzn.to/3GkUCll