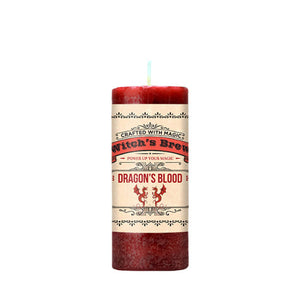 Witches Brew-Dragons Blood Candle
Dragon's Blood, a resin from China, the East Indies and South America, comes from some of the Earth's oldest trees. This resin brings in the wisdom of the ancients to help define and empower your spell. 
Blessing: By air, fire, water and earth, I craft this spell on heart and hearth. I call forth vitality and ancient force, my dragon awakens to find it's course. My spell complete, my magic fair, my words strong in my witch's prayer.
Candle Size:  2" x 4"
Burn Time: 40 Hours
Color: Blood Red
Scent: Woodsy & Fresh
ATTENTION:  Remove all packaging before lighting Never leave a burning candle unattended Place in a fire-safe container Keep away from drafts, flammable objects, children, and pets