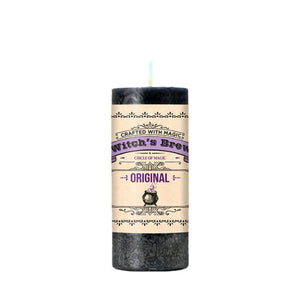 Witches Brew -Witches Brew Original Candle
Frankincense, Myrrh and  Mugwort strengthen the spirit and enlighten the soul to energize and empower any witch's spell craft. 
Blessing:  By Water, Earth, Fire and Air,
this spell be strong, my intention fair.
By the Lady and the Lord
in sacred space, my magic is poured.
Brew, brew, my power grow
on a witch's prayer my power flow.
Candle Size:  2" x 4"
Burn Time: 40 Hours
Color: Black
Scent: Resin Essential Blend
ATTENTION:  Remove all packaging before lighting Never leave a burning candle unattended Place in a fire-safe container Keep away from drafts, flammable objects, children, and pets